Events Calendar
Rick Springfield
Fallsview Casino
November 1-2 @ 9pm
Grammy Award winning musician, actor and New York Times bestselling author Rick Springfield takes the stage at Fallsview Casino Resort to perform such hits as Don't Talk to Strangers, An Affair of the Heart, I've Done Everything for You, Love Somebody and Jessie's Girl.
Eric Moo 巫啟賢
Fallsview Casino
November 3rd @ 7:00pm
November 4th @ 8:30pm
Since his first debut onto the Mandopop music scene, award-winning singer-songwriter, producer and TV host Eric Moo has garnered more than 30 years of success and is best known for his love songs such as 太傻,愛那麼重,唱不 完的愛情,你是我的唯一 and 心酸的情歌.
The Jim Cuddy Band
Fallsview Casino
November 6th @ 8:30pm
With one of the most recognizable voices in Canadian music, Jim Cuddy is known for his musical partnership with Blue Rodeo that topped the country rock charts. The Jim Cuddy Band has toured around the world performing fan favourites such as All In Time, Clearer View, While I Was Waiting and Pull Me Through.
Collective Soul
Fallsview Casino
November 7th @ 8:30pm
November 8th @ 9:00pm
Celebrating their 25th anniversary this year, Collective Soul is a multi-platinum alternative rock band, with a catalogue of #1 rock anthem hits including Shine, December, The World I Know, and Gel.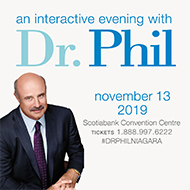 An Interactive Evening with Dr Phil
Scotiabank Convention Centre - 6815 Stanley Ave, Niagara Falls
November 13 @ 8pm
Join Dr. Phil McGraw for an evening of humour, straight talk and insight. You've seen his no nonsense approach, helping people cut through the clutter, find inspiration and direction. Now's your chance to share an inspiring evening with one of America's most well-known and trusted mental health professionals.
Music Trivia
Ramada Fallsvew
November 20th @ 8:00pm
Get your team together to test your music knowledge and win some great prizes!


Food and drinks are available for purchase during the event.